Follow, friend, like, link, subscribe: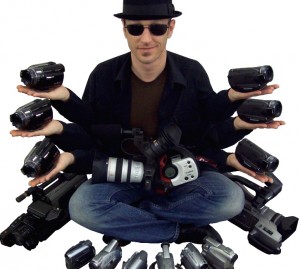 There is an insane amount of video out there, full of memorable moments, hilarious comedy and informative content. The problem is that tons of it is poorly lit, suffers from bad audio, is compromised by shaky camera work or becomes soured by strange colors. 
Jay Miles turns 20 years of film, video and marketing experience inside out: bringing YOU the pro tips, tricks, skills and secrets to make YOUR videos shine. The result is Conquering YouTube (MWP, publishers), designed to help you improve the look, sound and editing aspects of your videos, no matter the budget. 
The book explains simple tools to create exciting, engaging, and effective videos.  The exercises have been proven in classes, workshops and paid gigs across the country. The tips work for you to improve your images and help you gain confidence and have fun as YOU conquer YouTube!
---
Putting the YOU back in YouTube
Find new ways to improve an assignment, resume, portfolio, or advertisement. Jazz up a college application or spark a career change. Uncover new ways to address students, employees, or customers. Improve clips for sports teams, special events or activities. Break the next big star by making a hit music video. It's all about putting the YOU back in YouTube. Use these tips to change opinions, careers, minds and attitudes. Improve your grades, performance or profits. Reach new audiences, win contests, promote positive causes and deliver effective messages. Change your world, your outlook and your life. You just need to take a breath, pick a tip and start shooting…
 For press inquiries, please contact Brian at 1UP-PR: