Archive for the 'Miscellaneous' Category
How's your Skype? Mine is fresh as a berry, baby. My Skype Name is jmilestv, so be sure to add me to your contacts and lets get you CONQUERING !

Feel too cooked to hook my book? It's now available on the Nook! Click page 2 for a look at my Nook book!
Experimental musician Zan Hoffman wants to conquer YouTube!
"So your book has been sitting on the kitchen table… I took in the 1st quarter today. And when I was in the recording studio later, I found a few tips of yours to be helpful…everything to do with the creative process. Its a nice read. Kudos!"  ~ Zan Hoffman/Body Cocktail, Louisville, Kentucky

How much do you really know about YouTube? Check out this list of freaky YouTube facts from the fine folks at mashable.com (thanks to Tula for the link!). http://mashable.com/2011/02/19/youtube-facts/
Mighty Tuttle Time LapsePut together a time lapse video over the weekend/monday, at CT's new music/arts venue – the Outer Space. Just a quick experiement to see if I could get two time lapse cam's to sync while shooting a live concert. I created the music later just to have something atmospheric to go with the shots. Thanks to my friends Natalie, Tanya, OT and Mighty Purple. Enjoy!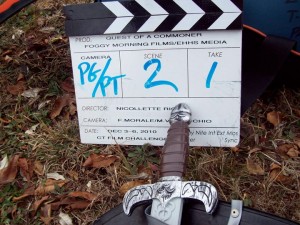 Congrats to my video students from East Haven High School who recently submitted their entry for the Fall 2010 CT CCC Film Challenge. This state-wide competition challenges high school video students to complete a short film in 84 hours, from early on a Fri morning until only the following Monday night (Dec 3-6). Shooting, music and editing must all be completed and the short successfully uploaded in this short window of time.
But that isn't all – the students must include key elements provided by the folks at Education Connection, who sponsor the event. These elements might include characters, lines of dialogue, types of shots, props or themes. The completed films are all automatically entered into the CT Film Festival which takes place in May of 2011. All of the fantastic films can be found by looking up the 2010 Film Challenge category at http://ctstudentfilms.org. The East Haven entry can also be seen at http://www.youtube.com/watch?v=VSAJN12qW8w. Enjoy – and thanks for watching!