Archive for the 'News' Category
Been a busy Spring and early Summer, including stops at the CT Student Film Fest, the CT DMV Teen Safe Driving Contest Awards Night and the Westport Youth Film Fest! Here are some highlights from the last few weeks! Enjoy ~ and Keep Conquering!
My pal Val runs a great blog for photogs and artists and was kind enough to interview me.
Val's Blog
I also recently appeared on the show 'Frames Per Second', produced by the fantastic TV/video students at Central Conn State University. Here's a taste.
Frames Per Second
I directed a music video for the New Haven alt rock band 'Mission 0′, which went on to win the 'Best Alternative Music Video' award at a recent CT Film Fest screening. Here's the vid:
Heavy Boots
And finally I am once again proud to be a sponsor of the New Haven 48 Hour Film Project, which challenges teams to complete a 4-7 min film in TWO DAYS! Here's the info:
New Haven 48HFP
Stay tuned ~ more great news coming soon!! And thx for your support!
In early December, 2011, I spent a day with a student of mine shooting video for the New Haven version of Help Portrait, an international event that brings pro photographers and hair/makeup specialists together to donate portraits to anyone who walks through the door. This is the result. Tissues recommended!

Excited to announce two upcoming events, both taking place in Feb 2012! For more info on attending, please click the links found below, and I'll see you there!
On Thurs, Feb 23, I'll be giving a beginner video workshop in NYC at Manhattan's famed Adorama camera shop! Sign up early – seats are limited!
Adorama Workshop
On Wed, Feb 29, I am participating in an exciting fundraising and awareness event for New Haven's LEAP For Kids program! I am thrilled to be a guest of honor for this outstanding organization. Please click the link for more info and details!
LEAP Year Event
Am thrilled to share three awesome articles from what was a wonderfully successful December! Thanks to you all for the support, and here's to Conquering in 2012!
1] From Ben's Journal: Mr. Ben randomly stumbled on the book at the library and this is the blog review that resulted! Thanks again Ben!
Ben's Journal
2] From Jumping the Candlestick: Deborah Diesen's great blog features all things books, including her successful series 'Michigander Mondays'. She was kind enough to include me and I am super thankful!
Jumping the Candlestick
3] MovieMaker: for their 2012 Movie Making Guide, the great folks at MovieMaker Magazine contacted a number of MWP authors. I was honored and excited to have my advice included among such great company. In addition to checking out my article, if you are at all interested in making indie films, then be sure to order this guide.
Miles in MovieMaker
Stuck for gift ideas? Here are 8 + 12 suggestions for why a copy of "Conquering YouTube" makes a perfect present!
8 Reasons Why This Book is Perfect for Hanukkah – one for each night!
1 Cover offers nice, smooth surface for dreidel spinning.
2 Pages can be used for squeezing extra oil out of latkes.
3 Lighting tips help make Menorrah *really* glow!
4 Recreate the victory of the Maccabees in ten shots or less.
5 I am almost completely sure that the book is 100% Kosher (I mean, it's printed using recycled stock from mixed sources, which is probably fine. One just can't be too careful these days…).
6 Viewed from above, book has EXACTLY the same number of sides as a dreidel. Coincidence? I think not…
7 What!? Yer gonna be YouTube friends with The Lee Vees with no uploads? Oy!
8 The tradition of giving gelt (money) to the local teacher during Hanukkah was a way to show appreciation for education. What better way to continue this tradition than with a nice video book? (Did I mention that I'm a teacher? Are you smelling what I'm cooking here, people? LOL)
12 Reasons Why This Book is Perfect for Christmas – one for each day of Christmas!
1 Drumming drummers can practice rudiments on extra-sturdy book cover.
2 Basically guarantees that this year's video of the "Lords a Leaping" contest will be IN FOCUS!
3 Gives whole new meaning to that "Do you see what I see?" line in that drummer boy song.
4 Helps you white balance for those tricky winter wonderland shots.
5 Audio section helps eliminate pesky Silent Night issues.
6 Details proper lighting for family recreation of epic Heat Miser/Cold Miser battle.
7 The weather outside really IS frightful. Stay in and edit.
8 Fits under ANY tree (stocking stuffability on a case-by-case basis).
9 Insures eye lines will be correct for that scathing tell-all interview with Vixen.
10 In a pinch, can be used for roasting chestnuts (not recommended before first reading).
11 Available in Log Cabin or Fresh Pine scent* (*totally not true. But you could add your own, with one of those spray can things… sold separately!)
12 No batteries required!!
Lots of good stuffs brewing – my next event is coming up quick – a special HOW TO video demo of all kinds of spooky cool Halloween tricks, at Hagaman Memorial Library, in East Haven, Conn. Click RIGHT HERE for more info, and to register!
Also excited to be working with the great team at the Civic Life Project – bringing several CT high schools and their video/civics students the chance to explore Democracy digitally! Stay tuned!
Finally, just booked my first appearance at a major NYC photo/video outlet – I'll post more info/dates ASAP! Thank you all again for all of the support! And keep Conquering!
…lots of stuff coming up! Booking events and workshops for Oct, Nov, and Dec – hit up my Twitter feed to stay tuned: @JMilesTV Also started a documentary style shoot with a top Reddit "IMMA" writer, and am super excited about it – more info soon! Have amped up the FB page for the book (www.facebook.com/ConqueringYouTube) so be sure to swing by and click LIKE to get all the latest info. I recently was asked to submit a story on my Top Tips for shooting movies for the Web, for a prominent movie magazine – will let you know as soon as it drops! And finally, am beginning preproduction on a muisic video – my first since LA – with a hot up and coming New Haven synth-folk band. Synth-folk? Is that even possible???
How's your Skype? Mine is fresh as a berry, baby. My Skype Name is jmilestv, so be sure to add me to your contacts and lets get you CONQUERING !

Feel too cooked to hook my book? It's now available on the Nook! Click page 2 for a look at my Nook book!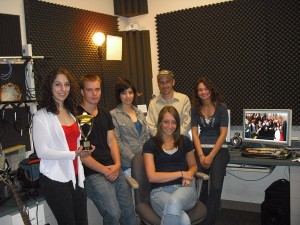 This has been a great month for Conquering YouTube!
Below are FOUR recent articles that all dropped in June, 2011. 
Thanks to all the writers, sites and papers for all the fantastic coverage! Keep Conquering!
Also, don't forget to pop by East Haven's Hagaman Memorial Library for my next signing – Saturday, June 11th, at 1pm! I will be speaking about the book, signing copies (proceeds will go to Hagaman Library!), sharing some stories from the TV biz and running some quick video demos of my tips and tricks. Phew!
The New Haven Register ran a wonderful story and included an exclusive video:
http://www.nhregister.com/articles/2011/06/08/life/doc4deff2ed60f04165355881.txt?viewmode=fullstory
The East Haven Courier also ran a very positive profile piece:
http://www.shorepublishing.com/article/20110601/NWS10/306029890/-1/zip06
My good friend Phil Hall was kind enough to interview me for FilmThreat:
http://www.filmthreat.com/interviews/36373/
And the great staff at the East Haven Patch site ran a story about my award-winning students:
http://easthaven.patch.com/articles/east-haven-highs-star-filmmakers-win-for-fiction